The Health Care Team at the Red Cedar Animal Hospital has been carefully selected for caring, compassionate individuals. Our team members enjoy meeting pet owners and their animals and go out of their way to make your pet's visit to the hospital happy and special. Some pets come in as reluctant patients and go out wagging their tails or purring. We enjoy what we do, and work in a playful atmosphere.

---
Barbara Meining, DVM

Dr. Meining graduated from Michigan State University Veterinary School in 1985 after spending 3 years in the U.S. Army. Since then, she has worked in the Lansing area. As her own dogs have gone through their "golden years" she has developed a special interest in geriatrics. She enjoys working with pet owners to devise a protocol to keep their animals happy and healthy, with a strong emphasis on preventive medicine. She has always believed in using fear-free techniques while working with animals. By offering lots of treats and minimizing restraint, many animals actually enjoy coming in for their visits. This puts a smile on everyone's face!
She has actively bred and trained Gordon Setters for over 25 years. Her dogs have been trained in competition obedience, tracking, field events, freestyle, agility and conformation events and have earned several prestigious awards. Dr. Meining currently has several dogs and Ragdoll cats. She has been selected as the top veterinarian in the Lansing area. She enjoys most outdoor sports, especially hiking, biking and kayaking, and also has a keen interest in travel and nature photography.
---
Jill, Licensed Veterinary Technician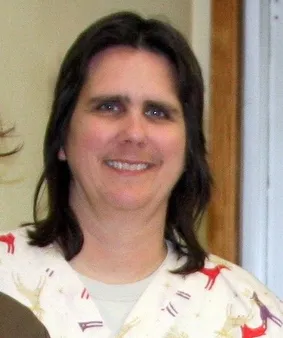 Jill graduated from the MSU Vet Tech Program in 1988 and have worked with Dr. Meining since that time. My professional interests are seizure disorders and natural supplements. My husband and I share our lives with a Flat Coated Retrievers, "Ticker" and "Briar" as well as our Pembroke Corgi, "Tempest." I am a founding member of the Capitol City Canine Club for Agility. I do many dog sports including agility, field work, obedience, herding, dock diving and tracking. I have been a 4-H leader in dogs for 25 years.
---
Corlie, Grounds Keeper

While you won't see Corlie behind the front desk at RCAH anymore, you may see her outside pulling weeds, planting flowers, or trimming bushes in her role of keeping the grounds neat and beautiful. She also enjoys taking care of her own gardens and the flowerbeds at her church. Spare time is often spent doing things with her Irish Red and White Setters, Claire and Bree, who are active in agility. Corlie is a piano teacher who loves making music, especially on her hammered dulcimer or with handbells. She shares her home with her husband Keith, and enjoys spending time with her three sons and their families, including three wonderful grandchildren.
---
Shannon, Boarding Manager
Shannon is our boarding manager. She has been in the field for over 25 years. Growing up on a farm, animals have always been an important part of her life. Throughout her career, her standard of care has never wavered, and her love for animals has only grown. Her favorite part of the job is bringing comfort to animals who are frightened and away from their homes. She treats every pet as if they were her own and ensures that they are not only taken care of, but pampered. When pets board with Shannon, she makes it their own little vacation. We are so grateful to have Shannon as a part of our team.
---
Shelby, Receptionist
Shelby is one of our receptionists and has been in the veterinary medicine field since 1992. She was inspired from a young age, with her family breeding miniature schnauzers and shadowing her hometown vet. As early as 10 years old, she knew she wanted to be around animals for the rest of her life. Shelby's goal in her work is always to inspire pet owners to have a wonderful and strong human-animal bond with their pets. She is the proud owner of two rescued fur babies, Dogi (a loving lab-pit mix) and Eugene (a sweet orange tabby). Outside of work, you can find Shelby exploring nature in the UP, spending time with her friends and family, or having beach and lighthouse adventures with her significant other.
---
Sarah, Veterinary Assistant
Sarah has been a certified veterinary assistant since 2021. She has been passionate about animals and nature since she was a toddler. She loves working at Red Cedar Animal Hospital and finds it a privilege to be able to help provide care for so many wonderful pets. She plans on finishing her bachelor's in wildlife rehabilitation and conservation at Unity College. She and her fiancé have 2 beautiful pitbulls, Remmy and Bruno, an adorable brown tabby cat named Pepper, and 3 freshwater fish tanks. In her free time, she loves to travel out west, spend time outdoors and with family, and play piano and violin. Thank you for taking some time to get to know her a little, and she looks forward to seeing you at your next appointment!
---
Dylan, Veterinary Assistant