We know that leaving your pet while you are away can be hard. That is why we focus on making boarding as stress-free as possible for both you and your pet. Our facility has separate boarding areas for cats and dogs. Boarding care for your pet includes two meals per day, as well as two walks outside per day for our dog visitors and twice daily litter box cleaning for cats. Our health care team monitors our guest's health care daily to be sure they are eating and well cared for. All pets are checked for fleas upon arrival and will be treated if any are found (there will be additional expense for treatment). Bring any medications or supplements your pet is taking and we can continue treatment during their stay.
Tours:
Below are photographs of our facility. If you would like a tour, we would be happy to show you around! Please call and schedule with a team member. For the safety of our guests and staff, we ask that tours be scheduled ahead of time. We may not be able to honor a tour during business hours. No tours on the weekends, we have limited staff available.
What to Bring:
If we do not already have your pet's vaccine records, it is helpful to send them (via e-mail or fax) ahead of time. We highly recommend that you get them immunized at least 2 weeks prior to stay to ensure vaccines will be fully effective in your pet's system by the time they are scheduled to stay with us. Your pet will not be allowed to stay if we do not have this information! We do not accept vaccines that have not been given by a licensed veterinarian. Be prepared with information such as emergency phone numbers or email, any medications needed and/or special instructions. Also, we encourage you to bring your pet's favorite bed, toys and/or their own food. Some people like to leave a worn article of clothing like a t-shirt or pillowcase with their scent on it to allow their pet to feel more comfortable. NOTE: We cannot take responsibility for damage or loss for any articles brought in.
We suggest you bring a portion of your pet's regular diet to make boarding more comfortable for them, however we can provide food if needed. We feed dogs Hill's Sensitive Stomach food. Cats are fed Iams Premium Protection dry food. Canned cat food is also available (varying brands).
Please allow at least
15 minutes
to fill out paperwork and get stuff organized for a boarding drop off.
Required Vaccines
:
Dogs
: Dogs must be current on their DA2PP (Distemper), RABIES and BORDETELLA immunizations. They must have a negative fecal parasite screen within the last 6 months. We can collect and run a sample here if the cat is not up to date.
It is highly recommended that all dogs are on a monthly heartworm, flea, and intestinal worm preventive such as Interceptor or Heartgard combined with Frontline or Nexgard.
Cats: Cats must be current on their FVRCP (Feline Distemper) and RABIES immunizations. It is recommended that all cats be on monthly heartworm and flea prevention, such as Revolution. They must have a negative fecal parasite screen within the last 6 months. We can collect and run a sample here if the cat is not up to date.
WRITTEN PROOF of these vaccinations is required from your veterinarian.
***For the health of all of our boarders, any pet without written proof of vaccines will receive a physical exam and vaccinations or they will not be allowed to stay.****
Our Facilities: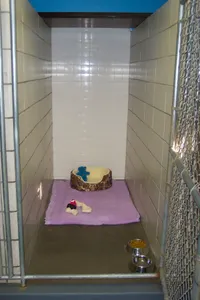 We offer 8 ft x 3 ½ ft runs that best serve large dogs or a family of dogs. Each run has a raised cot that dogs love.
We have a variety of compartment sizes to suit your dog's needs. The large and extra large sizes easily accommodate larger dogs who want to sprawl out. Medium and smaller sizes are best suited for small dogs or dogs that feel more comfortable in their own cozy "den".
| | |
| --- | --- |
| Kennel Size/ Dog Size | Measurement |
| Extra large (Labrador, Golden Retriever) | 48"L x 30"W x 32" H |
| Large ( Border Collie) | 45"L x 28"W x 28"H |
| Medium (Beagle, Bichon) | 33"L x 28"W x 28"H |
| Small (Chihuahua, Cat) | 21"L x 28"W x 28"H |



Kitty Condo
is a 35"L x 22"W x 48"H multi-level play area for cats. It is suitable for one or two cats, and especially good for young active cats.
Feline Boarding
This may be a better option for cats who the condo would provide too much space. These kennels are also in the treatment area to allow for a quieter atmosphere and plenty of attention from the staff. Each condo and kennel is sprayed with feliway before arrival to allow cats to feel more comfortable prior to the visit. Contact us for prices today!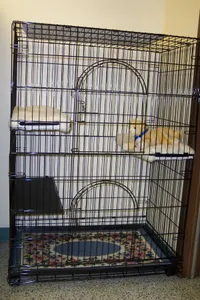 Additional services offered
Playtimes: We recommend adding playtimes for your pet, during which your cat or dog can play, be cuddled or get exercise or additional walks. Some pets may just want to snuggle with a team member outside their run and may enjoy some light brushing or massage. You let us know what you think your pet would prefer. Often we take dogs out for a quick potty break, then downstairs in our large play room so they can play with an attendant off lead and blow off some steam! Cats usually enjoy playing with our variety of cat toys, especially chasing our laser toy or rolling around in catnip.
Comfort times: are also offered for dogs, where a "pooch pacifier" (kong filled with goodies) is offered to help keep them occupied. We find giving these shortly after the pet is dropped off helps distract them from you leaving.
Puppy Care: We know puppies require extra TLC and more frequent walks. Puppies are walked at least 4 times daily. Daily playtimes and comfort times are includes in puppy care, which really helps with all of that extra puppy energy. If you are teaching your puppy new commands at home, please let us know so we can continue to enforce the same commands here. This truly helps with puppy training. The puppy care package is REQUIRED on all puppies boarding 6 months and under.
Senior Care: We have a custom padded mat that is provided to give your senior dog extra comfort during their stay. Seniors may also benefit from extra walks, so a total of four walks is included. Senior care includes comfort times and playtimes.
Isolation Boarding: We can arrange to board your pet away from other pets if they are ill. This helps to protect your pet as well as other boarding pets. This may be required on puppies and kittens that have not completed their vaccines, depending on where they are in their series.
Family Boarding: We realize many families have more than 1 pet. There are discounted prices for multiple pets sharing the same run.
Spa Day: You can opt to have your pet spruced up prior to being picked up. Your pet will be brushed, bathed and have their nails trimmed before they go home. Please speak with a team member about cost associated, it is dependent on size of your pet.

Drop Off / Pick Up Times: Your pet may be dropped off or picked up any time during our regular business hours. Please try and make is by 5:30 in order Monday through Friday (3:30 on Wednesday) to allow for time to fill out paperwork.
Additionally, pre-arrangement can be made for drop-offs Saturday and Sunday at 9 a.m. and 6 p.m. NOTE: If you are planning to use one of these weekend after-hours times, you need to make arrangements in advance, i.e. come in ahead of time to fill out paperwork for drop-offs, and pre-pay for any pet going home during these after-hours times. You must be a pre-existing client to drop off after hours on holidays. Due to high boarding volume during holidays, we may decline drop offs on actual holidays. Please speak with a team member when scheduling your boarding.

Daily charges are accrued similar to a hotel stay. Animals picked up prior to 2 p.m. will not be charged an additional day's stay.
Example: A pet that comes in on Monday and goes home Tuesday morning (before 2 p.m.) will be charged 1 day's stay. If that animal that comes in on Monday goes home Tuesday at 5 p.m., there will be a 2-day charge.
Our priority is always to keep your pets happy, healthy and safe. With an experienced veterinarian on the team, medical services can be performed while your pet is boarded, thus saving you an extra trip in.