Did you know that a recent study cited pets with routine dental cleanings and daily
home dental care can add up to 4 years to their life? Periodontal disease is the most common infectious disease in dogs and cats. In fact, 85% of adult pets have some form of periodontal disease. If left untreated, that can mean pain, bad breath, and tooth loss for your pet. Chronic infection may invade the bloodstream and can cause not only a drain on your pet's immune system, but also heart, lungs, kidney, liver and bladder disease.

Can you imagine not brushing your teeth every day? Yuck! We recommend daily teeth brushing for your pet. For those who don't have time (or for pet's who don't read this article or won't cooperate), we have alternative methods to aid in oral hygiene. Ask us about teaching your cats to brush their own teeth!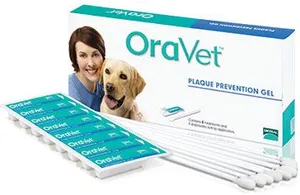 After teeth are cleaned professionally here at Red Cedar Animal Hospital, we can apply a product called OraVet. OraVet Barrier Sealant creates an invisible barrier that prevents plaque and tartar-forming bacteria from attaching to the teeth. At home, you re-apply OraVet Plaque Prevention Gel once weekly. It takes less than 60 seconds to do. Merial just also released Oravet chews, which contains a product in them called Demopinol that breaks up the bacterial film that forms plaque and tartar. Follow the link to learn more.

Pets scheduled for a dentistry have complete physical exams prior to the procedure. Pre- anesthetic blood work is required within 30 days of the procedure to ensure that anesthesia will be safe for your pet. Your pet is anesthetized and maintained with Isoflurane anesthesia.Your pet's safety under anesthesia is our utmost concern. Our patients are continually monitored by a licensed veterinary technician via EKG, blood pressure, pulse and respiratory rates, pulse oximetry and body temperature.
The ultrasonic scaling and polishing are performed by a licensed veterinary technician.
Fluoride treatment (as shown in photo) and oravet are applied after scaling, polishing and extractions. We also have bond sealant to apply on minor chips and sanos treatment to use on gums when indicated. Whole mouth dental radiographs (x-rays) are important in establishing tooth health and highly recommended for extractions. Our speedy digital processing results in shorter anesthesia time for your pet than regular film processing.
Any oral surgery or extractions needed are performed by the veterinarian. Antibiotics and pain management are used if indicated for the procedure. Pets are awake and go home the same afternoon with a brighter smile and fresher breath!
Did you know there is a veterinary oral health council (VOHC)? Their main job is to verify that the dental products available to our dogs and cats are effective against plaque, tartar and bad breath. Click here to see the approved list of VOHC products.