End of life issues are perhaps the most difficult thing we encounter with our companion animals. After the years of joy we share with our pets, knowing when the right time is to let them go is a difficult question to answer. We can help you through this process by discussing quality-of-life issues. Click
here
to download our "Quality of Life Scale" document. For pets with terminal issues, we can help keep your loved companions at home and comfortable in a hospice (or "pawspice") type setting until the time is right to selflessly let them go. We recommend
Harmony Pet Hospice
for both hospice services and in-home euthanasia. Lap of love hospice care has created an online interactive tool
that pet owners can use to evaluate their pet's quality of life. They create their pet's profile and choose from a variety of ailments. Based on the ailment selection, the questions and parameters they evaluate are different. This tool is free.
Just this side of heaven lies the Rainbow Bridge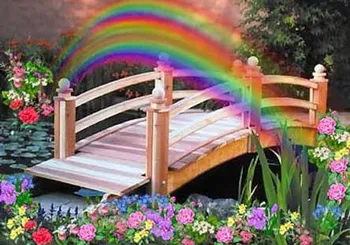 When a beloved pet dies, it goes to the Rainbow Bridge . It makes friends with other animals and frolics over rolling hills and peaceful lush meadows of green. They are as healthy and playful as we remember them in days gone by.
Together, the animals chase and play, but the day comes when a pet will suddenly stop and look into the distance…bright eyes intent, eager body quivering. Suddenly recognizing you, your pet bounds quickly across the green fields and into your embrace. You celebrate in joyous reunion. You will never again separate.
Happy tears and kisses are warm and plentiful; your hands caress the face you missed. You look into the loving eyes of your pet and know that you never really parted. You realize that though out of sight, your love had been remembered.
You cross the Rainbow Bridge together.
* * *
I ask my Master and Mistress to remember me always, but not to grieve for me too long. In

my life, I have tried to be a comfort to them in time of sorrow, and a reason for added joy in their happin
ess…. One last request I earnestly make. I have heard my Mistress say, "When Blemie dies we must never have another dog. I love him so much I could never love another one." Now I would ask her, for l
ove of me, to have another. It would be a poor tribute to my memory never to have a dog again. What I would like to feel is that, having once had me in the family, now she cannot live without a dog!
Paraphrased from "The Last Will and Testament of Silverdene Emblem O'Neill" by Eugene O'Neill